Originally Web posted Wednesday, 26 June 2013.
Content last modified Wednesday, 26 June 2013 .
Aristocart (clear/black/light blue—boxy front)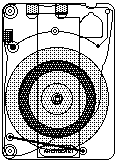 "Made in Canada", these were considered the crème de la crème of carts (and priced accordingly) until the advent of the Scotchcart. KALX has a few of these, mostly garnered from KECG, 88.1 El Cerrito (ah yeah!) in exchange for new Rat repairing their one cart machine, circa 1986. Some KRE/KBLX carts were Aristos.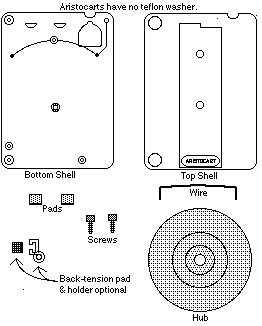 Aristocarts have a short, thick guide wire (essential), two glue-on front pads (essential), an optional side brake pad and holder a'la Audiopak AA-3, and the essential tape hub, top & bottom shell, and two case screws. Aristocarts have no teflon® washer, and do not need one. In typical AA fashion, the tape exits the pack at the front of the cart, to give the tape more time to "settle" itself before going on stage. The case top lifts straight off, presenting little grief. Aristocarts are slightly bigger than other brands in some dimensions, and might occasionally stick in a machine, or not go in all the way. If the cart is clean and properly assembled, pass it along to the Engineering Dept., along with information on which machine had trouble with it, and the nature of the problem. No Aristocart parts exchange with other brands.
---

Cart Caretaking

The Sonically Pure Pages
This Siber-Sonically Pure Page is

,

, and

Transitional compliant.